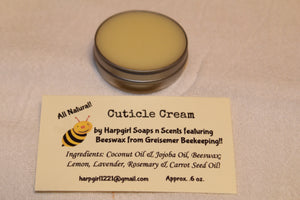 Our all natural Cuticle Repair Cream will help nourish and moisturize your cracked cuticles and brittle nails.
Cuticle repair cream is made especially for us by Harpgirl Soaps n Scents using beeswax from Griesemer Beekeeping.
Apply a thin coat to affected areas before bed until problem is resolved.
Ingredients: Coconut oil, Jojoba oil, Griesemer Beekeeping Beeswax, Lemon oil, Lavender oil, Rosemary oil and Carrot Seed oil.